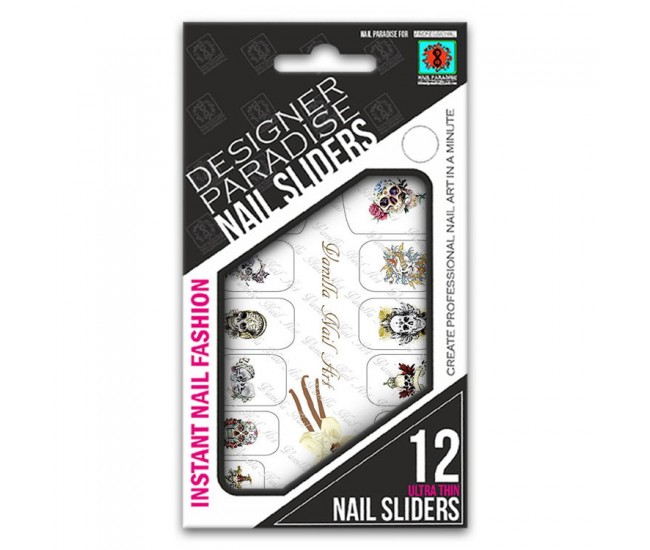 Nail Sliders 620011 - 12pcs. - Nail & Eyelash Paradise
Nail sliders are thin film, which are usually fixed on white or colored paper slice. The slider is fixed on the surface of the nail after soaking in water. Nail sliders are often translucent and are suitable for partial decoration or complete coating of nail plate. Slider application technology is determined depending on what kind of base and top coat you will apply.

Nail Sliders have different advantages. They do not stick to your fingers, do not curl or puff up. The slices are easy to apply and are able to embellish your manicure beyond recognition. Nails are not affected and the nail art will hold from new set untill correction (3 to 4 weeks).

Instruction
Prepare nail plate as usual.
Apply acrylic/gel Base coat and cure with lamp.
Cut slider to size and shape of nail.
Apply acrylic/gel polish to nail and cure with lamp.
Submerge slider in warm water, no less than 40 degrees for 5-10 seconds. Place slider on the nail, manipulate until it is cool. If air bubbles or folds occur smooth with a hoof stick. Sliders adhere easily to the nail plate.
Cure with lamp
Until slider is dried and set by the lamp it can still be manipulated.
Once positioned and cured remove excess slider with a glood nail file.
Apply 1st layer of top coat, ensuring sides and free edge are well capped. Cure with mlamp.
Apply 2nd layer of top coat, cure with lamp and remove sticky layer residue with cleaner.
Repeat on all nails and your manicure is complete.

We hope You are delighted with the results!

How to Remove
Gently peel off and apply polish remover.
Keep out of reach from children.
Stock:

In Stock

Model:

1620011